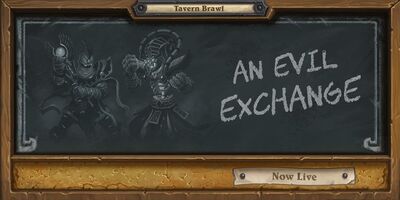 Initial launch: March 23, 2016
In this Tavern Brawl, Kel'Thuzad and Rafaam are competing to see who the superior endboss is! Take a side and battle for evil supremacy!
Players randomly play as either

Kel'Thuzad

or

Rafaam

.

Kel'Thuzad has 30 health and 30 armor. His Hero Power is

Necromancy

(summons a random Curse of Naxxramas minion).
Rafaam has 60 armor. His Hero Power consists of a part of the Staff of Origination which can be upgraded throughout the game. The

first version

grants a random rare when used, the

second

a random epic, and the

third

a random legendary minion.

Decks are pre-generated based on the randomly assigned hero.
The reward from winning a single game in this Tavern Brawl is a classic pack.
If playing as Kel'Thuzad, opt to use his Hero Power early and often in lieu of playing a minion.
If playing as Rafaam, upgrade his Hero Power as quickly as possible.
Ad blocker interference detected!
Wikia is a free-to-use site that makes money from advertising. We have a modified experience for viewers using ad blockers

Wikia is not accessible if you've made further modifications. Remove the custom ad blocker rule(s) and the page will load as expected.