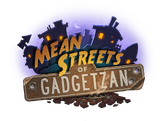 Bomb Squad is a minion for use by any class. For the cost of 5 

, she comes with low attack and health. When summoned, she deals a moderate amount of damage to a targeted enemy minion; however, when killed, she deals that same amount of damage to her hero.
Notable dialogue
Edit
Played: It's Boom-o'clock!
Attacking: BOOM! Ha!
Death: Bombs... away... ugh.