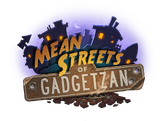 Don Han'Cho is a minion for the hunter, paladin, and warrior classes. For the cost of 7 

, he comes with moderate attack and health. When summoned, he also grants a random minion in the friendly hero's hand a moderate boost to attack and health.
Notable dialogue
Edit
Played: Hey! Join the Goons, or meet my fist.
Attacking: We'll handle this. SMASH!
Deck Recipe
Edit