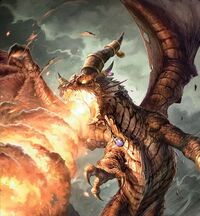 Dragonfire is a Deck Recipe for the mage class. The ancient dragons will crush all opposition, assuming you live long enough to summon them. Nefarian told me to tell you not to embarrass him by dying.
This deck recipe requires no weapons.
Ad blocker interference detected!
Wikia is a free-to-use site that makes money from advertising. We have a modified experience for viewers using ad blockers

Wikia is not accessible if you've made further modifications. Remove the custom ad blocker rule(s) and the page will load as expected.