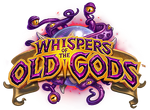 Forlorn Stalker is a minion for the hunter class. For the cost of 3 

, he provides all friendly minions in the hunter's hand a minimal buff to attack and health when he is summoned, so long as they possess a Deathrattle.
Deck Recipe
Edit
Note the buff does not apply to minions already played or those in the hunter's deck that have yet to be drawn.
Ad blocker interference detected!
Wikia is a free-to-use site that makes money from advertising. We have a modified experience for viewers using ad blockers

Wikia is not accessible if you've made further modifications. Remove the custom ad blocker rule(s) and the page will load as expected.