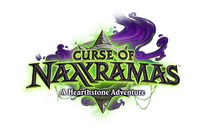 Frost Blast is the Hero Power used by the normal version of Kel'Thuzad in the Curse of Naxxramas adventure. Each round it allows him to deal a low amount of damage to the enemy hero and freeze it.
Kel'Thuzad loses his Hero Power when his armor is destroyed or at the beginning of the eighth round.
Ad blocker interference detected!
Wikia is a free-to-use site that makes money from advertising. We have a modified experience for viewers using ad blockers

Wikia is not accessible if you've made further modifications. Remove the custom ad blocker rule(s) and the page will load as expected.