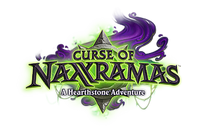 Gluth, the foul plague-dog of Naxxramas, was said to have an appetite so voracious that even the living were not enough to satisfy his hunger. Feugen was said to feed him an army of zombies daily, recycling the remains of undead too weak to use in combat.
Gluth is the third boss of the Construct Wing in the Curse of Naxxramas adventure.
Minions
Spells
Weapons
Ad blocker interference detected!
Wikia is a free-to-use site that makes money from advertising. We have a modified experience for viewers using ad blockers

Wikia is not accessible if you've made further modifications. Remove the custom ad blocker rule(s) and the page will load as expected.