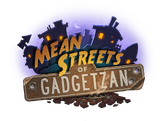 Grimestreet Smuggler is a minion for the hunter, paladin, and warrior classes. For the cost of 3 

, she comes with low attack and health. In addition, she grants a minimal amount of attack and health to a random minion in the summoning hero's hand (not one on the board or in the deck).
Notable dialogue
Edit
Played: What? They fell off a truck.
Attacking: A demo.
Death: Out of... bullets...
Deck Recipe
Edit