| | | |
| --- | --- | --- |
| " | The Grimy Goons sure picked a flattering name for themselves. They're your gangsters and weapon smugglers, eager to make their coin by equipping Gadgetzan with all sorts of untested and illegal weaponry. They're easy to pick out of a crowd; you can usually smell 'em before you see 'em, but watch out for ill-fitting brown vests and garish orange ties. What they don't have in brains, they make up with brawn. | " |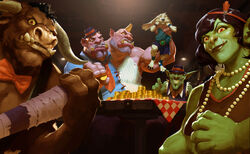 The Grimy Goons specialize in arms dealing and disorganized crime, employing Hunters, Warriors, and Paladins to their aid. They want to be sure they come out on top once they make their big debut on the streets, and they'll make sure to enforce the Goons' way of doing things. The brutish ogre, Don Han'cho, leads the Grimy Goons, proving two heads are buffer—and better—than one!
Tri-Class cards
Edit
Ad blocker interference detected!
Wikia is a free-to-use site that makes money from advertising. We have a modified experience for viewers using ad blockers

Wikia is not accessible if you've made further modifications. Remove the custom ad blocker rule(s) and the page will load as expected.