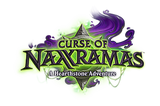 Jaws is a weapon for the heroic version of Gluth in the Curse of Naxxramas adventure. For the cost of 1 

, it grants him a small boost to attack whenever a minion with deathrattle is killed.
This heroic version has more attack than the

normal version

.
This effect is triggered when any minion with deathrattle dies, friendly or enemy.
Minions under the effect of silence still trigger this.