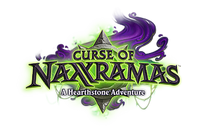 Kel'Thuzad was the founder of the Cult of the Damned and one of the principal agents of the Lich King responsible for the spreading of the plague of undeath across Lordaeron. Originally a human mage of the Kirin Tor, Kel'Thuzad was swayed under the influence of the Lich King. After bringing the plague to Lordaeron, he was slain by Arthas. Arthas (by then a death knight) resurrected him as a lich so he could summon Archimonde the Defiler into Azeroth. Following Arthas' departure for Northrend, Kel'Thuzad was left to command the Scourge of Lordaeron from his necropolis, Naxxramas.
Kel'Thuzad is the final boss of the Frostwyrm Lair wing in, and the final boss of, the Curse of Naxxramas adventure.
Note: all cards are x2 unless otherwise noted.
Minions
Spells
Ad blocker interference detected!
Wikia is a free-to-use site that makes money from advertising. We have a modified experience for viewers using ad blockers

Wikia is not accessible if you've made further modifications. Remove the custom ad blocker rule(s) and the page will load as expected.