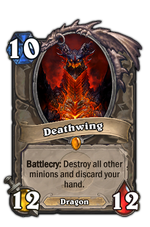 For a full list of Minions, see the associated category.
Minion is one of three card types in the game. There are class-specific minions and also neutral cards that are available to all classes. Minions are cards who assist and fight on behalf of the hero to inflict damage to your opponents hero's health. Many come with abilities, widely varied from drawing extra cards, taunt, or secrets.
Below is a list of all neutral cards that can be used by any class. For class-specific cards, please see the respective class page.
Legendary
Edit
Free/Basic
Edit
Patch changes
Edit
 (Patch 6.0.0) Note: Fixed a crash that would occur when you drew and played a minion very quickly at the start of your turn.
Ad blocker interference detected!
Wikia is a free-to-use site that makes money from advertising. We have a modified experience for viewers using ad blockers

Wikia is not accessible if you've made further modifications. Remove the custom ad blocker rule(s) and the page will load as expected.