This was removed from the game.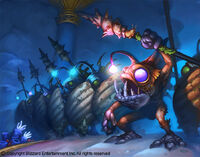 Murlocs Unleashed was a Deck Recipe for the shaman class. Try rushing down your opponents using the Murloc's aggressive synergies and finish them off with direct damage.
This deck recipe requires no weapons.
Ad blocker interference detected!
Wikia is a free-to-use site that makes money from advertising. We have a modified experience for viewers using ad blockers

Wikia is not accessible if you've made further modifications. Remove the custom ad blocker rule(s) and the page will load as expected.