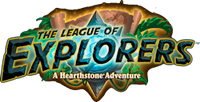 Pearl of the Tides is the Hero Power used by Lady Naz'jar in the heroic mode version of The Ruined City in The League of Explorers adventure. Each turn she replaces the minions owned by both players with those costing more.
Compared to its normal mode counterpart, rather than summoning minions that are of equal mana value on both sides of the board, Naz'jar receives minions of higher cost.
Ad blocker interference detected!
Wikia is a free-to-use site that makes money from advertising. We have a modified experience for viewers using ad blockers

Wikia is not accessible if you've made further modifications. Remove the custom ad blocker rule(s) and the page will load as expected.