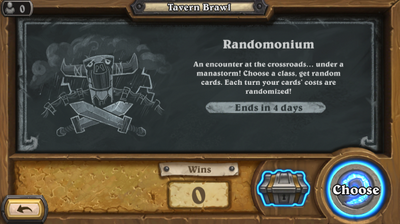 Initial launch: October 14, 2015
An encounter at the crossroads... under a manastorm! Choose a class, get random cards. Each turn your cards' costs are randomized!
Randomonium is a Tavern Brawl for Hearthstone: Heroes of Warcraft.
Players are allowed to choose any class from the outset.
They are then provided a deck filled with random neutral and class cards.
Each turn the mana cost of all cards in the players' hands changes.
Ad blocker interference detected!
Wikia is a free-to-use site that makes money from advertising. We have a modified experience for viewers using ad blockers

Wikia is not accessible if you've made further modifications. Remove the custom ad blocker rule(s) and the page will load as expected.