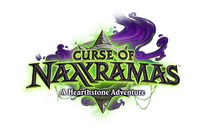 Skeletons are mindless undead created through necromancy. Most skeletons are raised from battlefields and thus are often seen still clothed in rotting garments and rusting armor. Some skeletons still fight with the weapons they died clutching. Others, specifically created only by the most advanced necromancers, are able to cast magical spells.
Skeleton is a minion summoned by Noth the Plaguebringer in Curse of Naxxramas.
Ad blocker interference detected!
Wikia is a free-to-use site that makes money from advertising. We have a modified experience for viewers using ad blockers

Wikia is not accessible if you've made further modifications. Remove the custom ad blocker rule(s) and the page will load as expected.