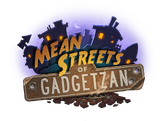 Small-Time Buccaneer is a minion for use by any class. For the cost of 1 

, he comes with minimal attack and low health; however, he gains an additional small buff to attack whenever the hero has a weapon equipped.
Notable dialogue
Edit
Played: Who goes thar?
Attacking: Uh...mmmm...
Deck Recipe
Edit
Patch changes
Edit
 (Patch 7.1.0.17720) Note: Small-Time Buccaneer's health reduced from 2 to 1.; Resolved inconsistencies in the way that Small-Time Buccaneer's Attack interacts with effects such as those generated by Humility, Keeper of Uldaman, and Crazed Alchemist.